In the Beginning was nothing which exploded (CODESIGN)
CORECODE
UML, Patterns & Components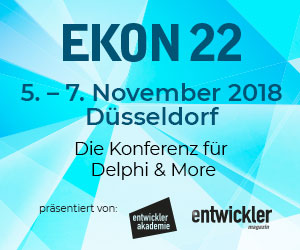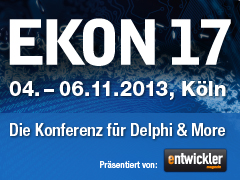 openSSL und openGL mit Delphi
Code: openGL mit Delphi
Intro: MultilangTranslator 1.6
Doc: MultilangTranslator Manual
Code: MultilangTranslator
Site: MultilangTranslator
maXbox 4.7 Release
maXbox Site
All Tutorials
DelphiWebSecure 1.9 /OpenSSL
Code: https Server 1.9 /PKI
SOA WebService Framework
Intro: SOA WebService Framework
PascalPowerPort
Do you speak Pascal?
The Art of Simplicity!


ModelMaker

Das UML Script Buch

Das VModell Help System

Megido Nostalgie



Delphi Gamer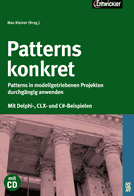 Pascal Gamer
News from Pascal World
25.06.2020 22:14:45
Blaise Pascal & Magazine


24 Years Delphi

The beginning CD: first CD's of Delphi Confidental!

Tutorials for Programming

mX3Arduino: Arduino Tutorial 18 Screenshot

1. Start with Programming 2010 Tutorial

2. Start with OO Programming 2010 Tutorial

3. Start with Modular Programming 2010 Tutorial

33. Start with Oscilloscope 2015 Tutorial


Delphi Tage 2012 in Heidelberg

Die Delphi-Tage sind seit 2005 das überregionale Treffen der deutschen Delphi-Community. Ausgerichtet wird das Treffen von den drei Delphi-Foren "Delphi-Treff", "Entwickler-Ecke" und "Delphi-PRAXiS" mit Unterstützung von Embarcadero. Die Delphi-Tage bestehen aus einer Vorkonferenz in Form von Workshops (Do + Fr), einem Community-Abend sowie der Hauptkonferenz (Sa).

Compileroptions in Delphi EKON Session 2009

MultilangTranslator 1.6 MultilangTranslator ist eine lizenzfreie Komponente, die mehrsprachige Anwendungen erlaubt. Die effiziente Komponente basiert auf Ressourcen und unterstützt viele bekannten Plattformen (Win32, CLX, VCL.net, Freepascal/Lazarus). Das Demoprojekt "Brainess" (a game;)) zeigt dynamische Unit mit externer Res-DLL und Sprachsteuerung. Als Batch lässt sich der Prozess beschleunigen, indem Sprachänderungen direkt in der Res-Datei erfolgen und sich als DLL compilieren lassen.

Programmiersprache und Didaktik


Delphi Gesamtkurs (Programmieren mit ObjectPascal)!

Modellieren in Delphi mit Together!

Simplifikation im Softwarebau

Biblionetz zu Niklaus Wirth

Delphi and InterBase: embarcadero

Pascal Analyzer PAL, was released in 2001, and is currently in version 5. This program parses Delphi or Pascal source code and produces reports that help you understand your source code better. You will also be able to identify potential errors and anomalies. Your code will be more readable and maintainable: PascalAnalyzer

Truth about LINUX Kernel
So deep inside the newest-greatest Linux kernel 2.6.xxx is in fact an old original Oberon System with Oberon-1 run-time methods, but without Ob type safety. These modules are loaded/unloaded by kernel. They have init/close sections, as well as methods. Methods are installed in procedure variables. All is arranged on top of old original C. The entire module structure is implemented by hand with a set of rules and preprocessor macros.
Amazing, it turns out to be old Wirth/Gutknecht design. Without proper attribution of course. Oberon Free Pascal Books

Early history at Apple and Borland
Object Pascal (OP) is an extension of the Pascal language that was developed at Apple Computer by a team led by Larry Tesler in consultation with Niklaus Wirth, inventor of Pascal. It is descended from an earlier object-oriented version of Pascal called Clascal, which was available on Lisa computer.
Object Pascal was needed in order to support MacApp, an expandable Mac application framework that would now be called a class library. OP extensions and MacApp itself were developed by Barry Haynes, Ken Doyle and L. Rosenstein and were tested by Dan Allen. Larry Tesler oversaw the project, which began very early in 1985 and became a product in 1986.
Apple dropped support for OP when they moved from Motorola 68K chips to IBM's PowerPC 1994.
An OP extension was also implemented in the Think Pascal IDE. IDE includes compiler and editor, a powerful debugger and a class library. Development stopped after 4.01 version because company was bought by Symantec. Developers then left the project.

FPC from start and also covers the advanced features. August 20, 2009: The 2009 International Olympiad in Informatics has been won by using Free Pascal. For this contest only the gcc and FPC compilers were allowed;
FreePascal & Lazarus
Open source compiler for Pascal, Delphi and OP version 2.6.0 is available.

Mit FreePascal, Lazarus, FreeCLX und Chrome sind auch Alternativen vorhanden. Auch OpenGL in Delphi zeigt die Effizienz der IDE und das homogene Bild der VCL weniger ist eben mehr. Mit Lazarus 1.4 und Firebird ist ein hochperformantes Entwicklungssystem lizenzfrei im Einsatz!
EKON 15, 28.9.2011 The conference is over and embarcadero has strenghten the future: "We dont wanna chasing about technologies" they have their own with VCL, ECO, FMX, IntraWeb, DBX4 and so on! Go on with NATIVE.